Animal Flashcards - Zulu (52 cards) / free shipping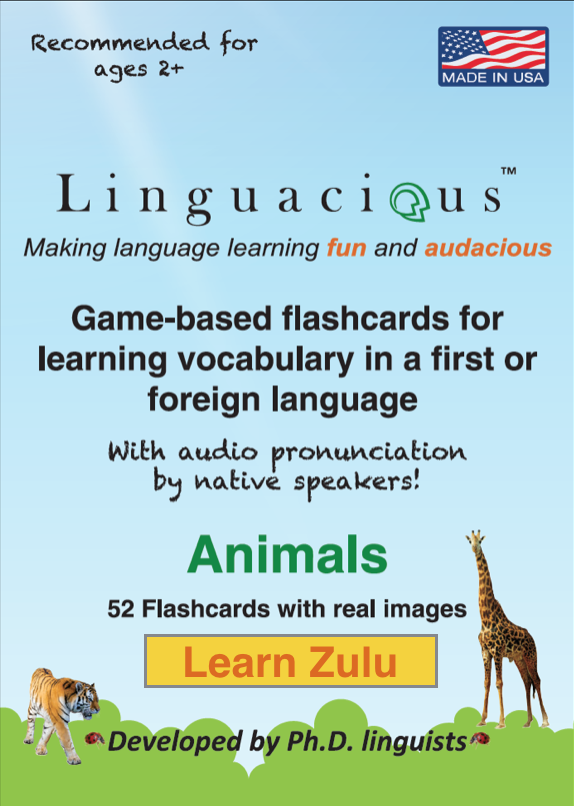 Animal Flashcards - Zulu (52 cards) / free shipping
Learn the name, spelling, and pronunciation (audio by native speakers) of 52 common animals in Zulu, while playing over 8 different fun games to practice your knowledge! You may play the games with just one Linguacious™ deck or with several different decks.
Winner of the prestigious Tillywig Brain Child Award and Dr. Toy's 100 Best Educational Toys Award! Your child will learn reading, writing, listening, and speaking with these cards. MADE IN USA and a portion of our profits are donated to foster foreign language learning in K-12 in the USA.
The only vocabulary flashcards that feature real pronunciation by native speakers (Internet required)
Fun and perfect for toddlers, children, and even adults. Real color photographs only.
Learn the names and pronunciation of 52 animals in Zulu in less than a week of play!
Our suggested games to learn Zulu (includes word bingo) are guaranteed to get you to learn all words in no time!
sold out
NOTIFY ME WHEN ITEM IS RELEASED
We are planning to release this item soon. The more people requesting it, the sooner it will become a reality! :) Please fill out the form below to be notified when the item is in stock. You will also receive a PROMO code for a 10% discount once it's in stock.